Not gonna lie, life with two kids is hard. But it's so fun at the same time! We have lots of things to be happy about.......
....it's spring! And it's 60 degrees one day and 30 the next. But blue skies are in our future and we just can't wait!
.....the internet is hooked up to our house and I'm finally back in action! Seriously, waiting a month to get service is ridiculous. Actually we were told it would be 6-8 months, so I'm actually really thankful it was just one month. Cough cough COMCAST you are not my friend.
....I finally watched The Bachelor! Even though I already knew who Ben picked (thanks social media spoilers!) the first thing I did after getting back online was catch up on the last 4 episodes. And OMG! Ben saying I love you to two women made me soooo uncomfortable. I could barely watch. Those poor girls.....poor JoJo and her broken heart and poor Lauren having to watch her man say he loved another girl too. I just can't handle it. The only good thing to come out of this is that JoJo is the next Bachelorette.
....and I started watching Fuller House. Man, I feel so out of the loop!
.....I added
these earrings
(in white) to my shopping cart. How perfect are they for every day? They are smaller than the original studs and I'm obsessed.
.....I officially can't get anything done with a certain busy 9 month old girl around. She's trouble. And in to everything. I don't remember Hudson being that bad.....but I guess that's motherhood right? You forget the hard stuff....that's the only way you would ever have another baby I guess!
.....I have lots of Easter candy in my plans this weekend and I cannot wait.
.....I'm SO behind on reading blogs and commenting. I missed you all so much. I'm slowly getting back at it and can't wait to hear what you all have been up to!
....I unpacked and organized our master closet and was feeling SO accomplished. Everything fit! It was clean and tidy! Yay! And then I discovered a TON of my clothes were hiding out in a closet at my mom's house. I'm contemplating just donating them all so that I don't have to go through them. I haven't worn them in a year so they won't be missed, right?
....linking up
with this girl
is making me all kinds of happy today.....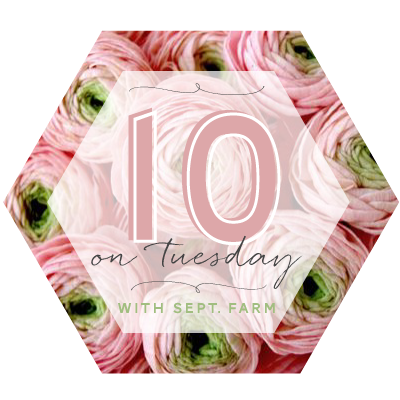 ....
13 Comments »