Hudson is off to his first day of preschool! I can't believe it. He is going three days a week just in the morning...and I've been patiently counting down the days until it starts!
His preschool is located on a farm, so the kids spend their day doing all the typical preschool stuff but also help take care of the animals on the farm (a cow, chickens, horses, goats, sheep...you name it!), grow veggies in the garden, and do nature walks outside. Hudson has been talking about it for MONTHS so we are so excited the day is finally here!
The teachers come right up to the car line and take your kid out of your car for you....which was good for me because Hudson had no time to get scared and cry. I purposely didn't prep him about this step knowing that the element of surprise would help him not cry. That either makes me the smartest or meanest mommy ever....but I know from experience that he struggles with drop off, so this solution was made for us!
I can't wait to pick him up and hear all about his day.
Don't forget to enter my
Snuggle Bear
and Target
giveaway here
! Have a great weekend my friends!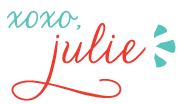 12 Comments »