Now that I have two kids, our days have changed quite dramatically. I'm also officially a work from home mom, which means I pack not only fun, but work time into our days. So it's about time I give you all a little peak into a typical day!
6:30 a.m. Sadie is up and ready to party...even after being up at 2:00 a.m. and 4:00 a.m. What happened to my good sleeper? It's days like these that I wish I drank coffee. Normally I try and wake up before the kids so that I can get some work done...but when I'm up all night I give myself a pass and try and sleep in as much as possible. It's sad that 6:30 is considered sleeping in.
I feed Sadie and then we play for a while. I quickly make breakfast (scrambled eggs and a green smoothie) before big brother wakes at 7:30.
7:30-8:30 a.m. We have no where to be this morning so Hudson says "cuddle me mommy" and my heart melts. He drinks his smoothie and watches The Lego Movie (his current favorite!) and I check my email on my phone while he sits in my lap. I'm so thankful that he loves to snuggle with me....it's the best start to our day. When I was working full time we often couldn't snuggle on the couch and it made for a rough morning. I'm thankful to be home now so that Hudson gets this quality time with me.
8:30 a.m. and it's nice outside, so we are off for a walk in the stroller. I pack some cereal for Hudson to snack on and he's as happy as can be. I'd love to start going to the gym...maybe once Hudson starts pre-school...but for now it's walks around the neighborhood for us!
11:30 a.m. After swim lessons we come home and have lunch (mac n' cheese and fruit) and then I read Hudson a book and put him down for his nap at 12:30 p.m. I feed Sadie again and she falls asleep too. Both kids are sleeping at the same time! VICTORY!
My victory is short lived when Sadie decides she'll only nap if I hold her. I actually don't mind...I know that this stage is short and one day I'll miss it. So I hold Sadie and get to work. My ability to type with one hand is getting better every day. I bust out a blog post, answer work emails, and work on a project. Feeling super productive!
3:00 p.m. Hudson is up from his nap and I bribe him to go to Target with the offer of fruit snacks. Usually after a nap he wants to stay home and play, so the fact that I got him out of the house is a big deal.
With Hudson in the front of the cart and Sadie in the basket part, there is basically no room for all the things. Which means I have to go to Target every week. No complaints here.
4:15 p.m. Hudson is over our photo shoot and is begging for popcorn, so after a wardrobe change for both kiddos it's time for a little movie watching. I feed Sadie and watch some of the movie with Hudson and then it's time for me to make dinner. Hudson and Sadie stay like this for close to an hour....which is a record for both kids!
5:00-7:00 p.m. Daddy is home! The next two hours is a rush of eating dinner, doing dishes, playing, Hudson riding his bike, and generally making a big mess.
7:00 p.m. Daddy takes Hudson to take a shower while I quickly sweep the house to clean up and then give this girl a bath. She is all smiles. Then it's books, snuggles, and bedtime for Hudson. I would love to get Sadie down at this time too, but she refuses to go to bed before 9:00, little stinker. So I feed her while I watch some TV with my husband and relax a little.
9:15 p.m. Sadie is asleep and I have a little more work to do. Then it's a shower for me and then watch some TV in bed with my husband. I'm exhausted so lights out by 10:30 p.m.
Then we do it all over again!
I was selected for this opportunity as a member of Clever Girls and the content and opinions expressed here are all my own.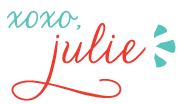 20 Comments »