I'm all about easy lately.....so naturally this project was right up my alley! Hudson is going to turn three in September, which means he will be starting pre-school! How did my baby grow up so fast? So, I decided to make his day-care teachers a few simple gifts. Every day he learns something new from them, so they have really been a blessing to our family!
All I did for this was grab a few mason jars and paint them with chalkboard paint! Super easy!
I used a
Chalk Ink
pen to write "thank you" on one side and "bloom" on the other. That way they can pick what side they want to display. It was my first time using
Chalk Ink
and it was SO easy to use. It went on like butter. I'm basically officially in love with this pen. I'll never go back to regular chalk again! Where was this when I was doing my
weekly chalkboards
when I was pregnant with Hudson? I can't wait to have some free time (am I kidding, will I ever have free time with TWO kids?) so that I can make some fun chalkboard signs with this pen!
Add in some flowers and call it good to go! This one was from our yard.....can't wait to see more pretty things pop up in the next few weeks!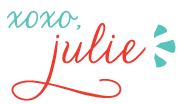 6 Comments »