I'm so excited for Hudson's Easter basket this year! But, let's be real. I say that every year! Stuff like this is one of my favorite parts of being a mom. I remember my mom hiding eggs in our yard and getting an Easter basket every year....I can't wait for Hudson to have those memories too.
This year Hudson totally understands the Easter egg hunt idea, so it's on! I've filled a bunch of eggs with little cars, dinosaurs, and bugs. He is going to flip out! Unfortunately I think it might be raining on Easter, so we'll have to keep our hunt inside.
This year in Hudson's basket I put his monogrammed bunny from
Peekawhoo
, even though he's not new. I think he will make a yearly appearance since Hudson loves him so much! He's also getting these
linkable cars
that they have at our local children's library and Hudson is obsessed with! I thew in some summer time
surfer puppy pjs
,
submarine pjs
,
dinosaur slippers
(he is going to freak out over these!) and a Thomas the Train
book
and
train
. And
The Little Engine that Could
book. And of course some cute bunny eggs from Target filled with little surprises.
I hope you have a great Easter!
I'm linking up with
The Good Life
for the Easter Basket Blog Hop.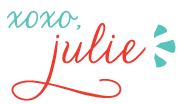 21 Comments »