Now that I'm feeling a little more like myself, I'm trying to get back in to a routine of making dinner each night. Well, most nights. I don't really like to cook....plus throw in several food aversions and it's been pretty interesting at our house. Here are a few things that we've been eating lately that I LOVE. I'm also always on the hunt for easy recipes to make during the week....please share your favorites with me ladies!
1.
Baked Sweet and Sour Chicken from Damn Delicious.
I made this last night and damn....it was delicious! It tasted like a fresher version of sweet and sour chicken that you would get at a Chinese restaurant. And it wasn't too hard...just time intensive (which I usually avoid, but it was too good to pass up). A quick word of warning.....I would suggest that if you have small children that you save this recipe for a weekend or for when your husband is home to help watch your kids while you cook. The beginning of the recipe you have raw chicken and raw egg and need to pay close attention to what you are doing...you can't leave it to tend to a little one. Luckily my husband was home while I made this so he watched Hudson. Once you get the chicken in the oven (it cooks for 55 minutes) you can tend to your kids...but for that first part, have help! My husband said this recipe was definitely worth the extra work! We both ate it for dinner and had enough leftovers for us each to take to work. Hudson wouldn't touch it....he doesn't know what he's missing.
2.
Stuffed bell peppers
...by me. I make this ALL THE TIME. My husband is sort of over it, but Hudson loves it and so do I...which means it's on frequent rotation in our house. I've used both red and green peppers and it's good either way. My recipe is old and says 6 peppers...we usually just use 4 and give the extra stuffing (brown rice, ground turkey, and tomato sauce) to Hudson to eat since he doesn't like cooked peppers. If I remember, I usually make this with a side of cornbread. But usually I forget.
3.
Sweet Sloppy Joes by Mix and Match Mama
. These are so good. So so so good. Everyone loves them. I use ground turkey instead of beef and usually add a little extra meat because it's a little soupy. Make this tonight...it's easy and yummy!
5. Grilled Cheese and tomato soup. We have this all the time too. And fyi, Costco has the BEST tomato soup. Hudson would eat soup every night if we let him!
What quick and easy recipes are your favorites for your family? I need some more ideas! Leave your links in the comments!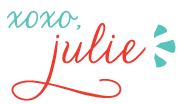 11 Comments »