Dear Jean Jacket that I've had since high school,
You have served me well these past 15 years.


I have worn you to countless classes, movies, nights out with friends, dates with cute boys, Sunday mornings at church, and school functions.
You have been patiently waiting in my closet for the past 10 years for a chance to get out and about again. Luckily for both of us, I kept you around.
And now you are back in style...and just as good as I remembered.
Except now my hair isn't as poofy and my eyebrows are a little thicker. Other parts of me are probably thicker too....but you still fit.
And for that I am extremely grateful. We've been through a lot together.....let's keep it up.
love,
the no-longer-16-year-old-but-still-loves-her-jean-jacket-julie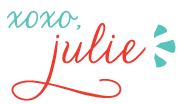 14 Comments »