If you really knew me you'd know...
As soon as I get home from work it's a mad dash to get out of my work clothes AS FAST AS POSSIBLE. Bring on the yoga pants. And no, I don't do yoga. Ever.
I also wear said yoga pants covered in yogurt and cat hair out in public....and whenever I do I ALWAYS see someone I know.
95% of my photos are taken on my iphone...even though I have a nice DSLR.
I hate drying dishes and putting them away. I don't mind washing them but drying them is the worst. Oddly enough, I don't mind emptying the dishwasher. I'm complicated.
I see the best in people.
My hair doesn't always look like this.
It usually looks like this.
My eyes change color from brown to dark olive green, depending on what I'm wearing. Or at least I like to think that they do.
My favorite season is fall. My least favorite season is the last two months of winter or whenever it gets above 80 degrees. 60-70 degrees is my jam.
I'm sensitive and my feelings get hurt easily.
I hate voicemail. I do a little happy dance when I get in to work and see that I have zero voicemails (which doesn't happen very often). I don't mind voicemails on my cell phone, but can't stand them on my work phone.
When I clap my hands, I have to cross my pointer finger and middle finger on my right hand. I have no idea why I do this but I am certain if I stopped the world would end.
More fun facts about me can be found
here
.
So...what would I really know about you if we were friends?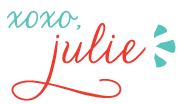 26 Comments »