Forget my four years of college and two years of graduate school. Nothing I learned there prepared me for what I do on a daily basis....communicate with a tiny little BOY all day long.
Here is where my education is lacking:
Cars, trucks, and tractors. That's about all I know...but that isn't going to cut it for much longer. Hudson is already obsessed with anything with wheels (or propellers) and soon enough he is going to know SO much more than me about all things truck. Dump truck, front loader, bulldozer, excavator...say what?
Forget all you learned about please and thank you. Key words in our house are (in order of importance): basketball, boots, PUPPY, airplane, outside, and fruit snacks. If you know those six words you are golden.
And all that stuff you learned about matching your shoes to your purse? Totally doesn't matter. Tractor rain boots and camo GO WITH EVERYTHING.
You better learn your tools. A full on tool obsession has broken out in our house. Thank you
Green Toys
for labeling each tool and making it a little easier on me. I always forget which screwdriver is the Phillips one. Now I know. Now if only the makers of real tools were that smart.
You better know your animals....mammals, reptiles, dinosaurs...you name it. Thanks to
this book
I now know baby whales are called calfs.
Sports. Period. I need to learn more about them. Baseball, basketball, football....you name it. And apparently Easter egg ball is a new up and coming sport. I better hit the books and get some practice time in asap.
I wouldn't trade learning this new language for the world. If it means I get to talk to that cute face every day then sign me up!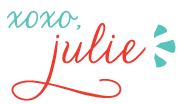 22 Comments »