I can't believe it. In a blink of an eye my baby boy is 18 months old.
I have loved basically ever stage...but this stage is my favorite. Hudson is just so funny, entertaining, and sweet. I want to bottle him up and keep him forever.
And busy. Oh man, is this boy busy! But I love it. I love chasing after him. I love his boundless energy. I love that when he is playing with his toys he'll look back at me and smile....always making sure mommy is watching him.
Some things I never want to forget: Hudson loves boots and shoes. If you leave yours out, he will for sure try them on and walk around the house in them. He also loves taking off his clothes and running wild. He is obsessed with daddy's hats and gloves and always insists on wearing them.
He wears size 18 months in pants and size 18 months or 2T in shirts. 2T in pajamas and size 5 shoes! We'll know official height and weight next week at his doctor's appointment....but I have a feeling he is still 80th percentile for weight!
Hudson is all boy. He LOVES his soccer ball and basketball and "ball?" is one of the first words out of his mouth in the morning....after "milk?" of course!
Hudson's second favorite toys are his books. This boy is always reading...and has torn out several of the little doors in flaps in his books. He has been a little slow to talk but has a ton of words all of a sudden and is pretty good about trying to repeat what we say. Last night he tried to say octopus and it came out "uh-oh pa" Cutest thing ever. Other favorite words: dada, mama, uh-oh, milk, ball, more, please, bye-bye, wow, wrigley ("riey"), and he also meows for the kitties. We are still working on thank you ("ta tu") and help.
Hudson is a little bit of a picky eater. His favorite foods are macaroni and cheese, blueberries, waffles, bananas, graham crackers, quesadillas, anything with quinoa, anything with BBQ sauce, yogurt, tomato soup, and cheese. He is really good at feeding himself with a fork and spoon and loves being a big boy! We also are officially bottle free in our house! I didn't really have a cut-off date for no more bottles, mostly because Hudson only had one right before a nap or bed time...and since he finally started sleeping better I didn't want to jeopardize that! But one day I decided enough is enough and put them away and only offered him a sippy of milk before sleeping. He fussed for a few minutes but that was it! Yes! Hudson sleeps through the night (usually!) and takes a 2-3 hour nap at noon. LOVE this schedule so much!
Hudson, we love you so much. One day when you become a parent yourself, I hope you'll understand the depth of love we have for you. You have made my world so much better and bring so much joy to everything you do. I can't wait to see what you'll do next!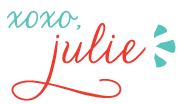 23 Comments »