If you really knew me, you'd know......
I wake up at 3am worrying about stupid stuff like kindergarten. Hudson isn't even 18 months old yet and I'm obsessing over kindergarten!
I could eat raspberries, strawberries, and blackberries every day of my life and never get sick of them. Whenever someone asks my favorite food, it's always raspberries. But don't you dare come near me with a blueberry! Yuck!
I'm obsessive about sunscreen. It's a redhead thing.
My least favorite chore is going to the grocery store. I don't know what it is about grocery shopping, but it just bugs me! It's never relaxing. Now, Target and Costco on the other hand? I could live at those places. They are like Disneyland compared to grocery shopping.
I can sing all of the lyrics of I'm on a Boat, from Saturday Night Live (and yes, the language is terrible and you will never hear me say those words.....except in this song.) Classy. I've got my swim trunks, and my flippie-floppies......
I don't drink coffee. I think it's gross. Although I would probably benefit from the caffeine on mornings like this!
Despite not liking coffee, I'm much more of a morning person than an night owl.


I don't think I ever buy myself clothing unless it's on sale. But Hudson's clothes? Forget about it. If it's cute, it's coming home with us!
I only listen to Country music when I'm in the car. It's my fav.
My middle name should be procrastination. I don't function well unless I have a deadline. But what is my real middle name you ask? Christine.
So....what would I really know about you if we were friends?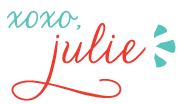 28 Comments »