1. I only hit the snooze button once this morning! That's a new record.
2. I made s'mores last night for dessert. In the microwave. That's called being awesome.
3. I successfully managed the doggie daycare AND kiddo daycare pick ups after work yesterday with zero meltdowns!
4. I managed to make a healthy dinner while also entertaining a busy toddler, 2 cats, and a dog. I made a variation of
these pineapple turkey rice bowls
and OMG they were good. I used quinoa instead of rice because it's Hudson's favorite. It was a mess...but he ate it and that's all that matters in my book!
5.
Hudson's Valentine's Day cards
were done before February 1st! Take that procrastination! I showed you! (they may not be mailed yet, but at least they are done!)
How do you have it all together today?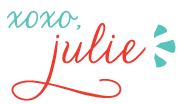 21 Comments »