Look it's me! We stayed nice and cozy inside this weekend while it was freezing outside!.....well, we did venture outside to play in the snow a little bit....and once for donuts...you know, the important stuff. Anyway, let's talk about one of my most favorite things....mason jars. They are scattered in almost every room of my house....I just can't get enough! Most of them were my grandma's, so they hold a special place in my heart. So does my new necklace from
JustJaynes
.
Cathy from
JustJaynes
sent me the most adorable mason jar necklace with Hudson's name on it. Let's zoom in a little closer....
Mason jar filled with hearts AND my most special boy's name on it....I mean, could it get any better? It's my new favorite accessory, that's for sure!
I love having Hudson's name close to my heart all day.....isn't being a mama just the best?
Want a necklace like mine? Cathy has generously offered to give one lucky The Girl in the Red Shoes reader a $40 shop credit! Read on for details!
Meet Cathy of
JustJaynes
, jewelry-maker extraordinaire! Cathy started making and selling jewelry in 2005 while working a full time job. Jewelry making started out as a hobby, then grew into a part time job (while still working full time). Around Christmas 2009, her employer and her split ways, and
JustJaynes
became her full time gig. She was able to focus on the jewelry business and grow her line of thoughtful & personal jewelry, which now includes necklace, bracelets, and rings.
Sterling Silver Initial Necklace
Each custom piece of jewelry is hand stamped, letter by letter. Each is as unique as the wearer. Happy customers are her Number ONE Priority. "Some of my favorite designs come from my customers imaginations!"
Family Tree Initial Necklace
Cathy is also a wife, mom to two fur-babies, three-season runner, golfer, and fisher-lady. Her love for her pets, family, and running has inspired some of her best-selling necklaces.
Isn't her jewelry beautiful? Enter to win a $40 shop credit to JustJaynes below!
Anxious to order something right now? Use code REDSHOES15 for 15% off your order! (good until January 31, 2014)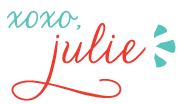 55 Comments »