Alright let's get your burning questions answered! If you need to catch up, you can read part 1 of my answers
here
.
Christina
wants to know what I do for a living as well as my daily routine for getting ready and out of the house. I'll answer the routine question in a separate post, but as for what I do for a living.....I work full time as an administrator at a law school. My job covers admissions, schedule advising, student activities, accommodations for students with disabilities, financial aid, and like a hundred other things. I've been at my job for almost 7 years and am lucky enough to be granted permission to work from home on Wednesdays and usually work 8am-4pm the other days of the week. My job can be busy and stressful, but I love it.
Christy
wants to know how I got in to my career. In college I was an resident advisor in a residence hall for two years and then became in charge of the resident advisors and responsible for and entire residence hall my senior year. That job opened my eyes to all sorts of different opportunities I could have if I worked at a college or university...and I loved every minute of it! After graduation I went to on to get my master's degree at Michigan State University in higher education administration. While in school I had a graduate assistantship as an assistant residence hall director. That position was live-in...so I had an apartment in the residence hall, meal plan, office, and it paid my school tuition. It was a total win-win! During that time I also had two different internships...one as a career advisor and one working in the alumni department of MSU's law school. When it came time to job search I knew I wanted to stay in Michigan if possible (thanks to meeting my future husband and falling in love) and one of my advisor's sent me the job posting for my current position....at a different law school. Bada bing bada boom, here I am today.
Jessica
wants to know about how I weaned Hudson. Oh boy, get ready...this is a long one. Hudson officially stopped breastfeeding two days after Christmas. That means I breastfed that boy for almost
16 months!
I sometimes miss breastfeeding, but I think it was the right time to stop...for both of us. Okay....so here's what we did....Hudson drank breastmilk exclusively until he was 13 months old. My goal was one year, and once we made it to that mark, neither of us were ready to stop so we just kept going. But, just one month after Hudson's 1st birthday I was ready to give up the stress of pumping and cut myself a break. On the days when I was home with Hudson it was a breeze...but on the days I had to work it was getting harder and harder to pump enough milk for him to drink at daycare. So it was time.
We first started by sending Hudson to daycare with bottles that were half breastmilk and half whole milk. Then we slowly (over the course of two weeks) increased the amount of whole milk in each bottle, until he was drinking 100% whole milk. He didn't seem to notice any difference so that made it easy. Once Hudson was used to whole milk, I started cutting back on pumping sessions at work (praise God!). My normal routine was to pump at 8am, 11am, and 2pm on the dot, so the first thing I did was eliminate one session and move the other two sessions to 9am and 1pm. At this point Hudson was still taking 2 naps a day, so if I was home with him I would nurse him for his morning nap and then offer him a bottle for his afternoon nap. My boy LOVES his milk! After about a week, I cut back to just one pumping session at work, usually around noon. Then a week later I didn't pump at all...and it was the BEST FEELING EVER! I was free!!!!
So from 13 months to 15 and a half months I would just nurse Hudson when he woke up in the morning and when it was time to go to sleep at night. It was more for comfort than anything else. Also around this time Hudson transitioned to a new room at daycare where the just one nap during the day (usually around 11:30)....so that forced me to transition him to one nap at home too. At daycare Hudson will drink milk with his lunch right before his nap, but at home he gets a bottle of whole milk and I rock him before his nap. I didn't know how long we would keep on breastfeeding in the morning and at bedtime, but he seemed to enjoy it so I just went with it. After a while it got harder and harder to satisfy Hudson with just breastmilk in the morning and at night. He would keep sucking and sucking and it started to hurt me. I think my body was just producing less and less milk. So, often at night Hudson would have a small bottle, and then I would nurse him to sleep. One night after his bottle he didn't act interested in nursing (so sad!) so I just said our prayers and put him down to sleep. Then next morning while breastfeeding he bit me SO HARD that I started bleeding....and that night he refused to nurse again. So I took that as a hint and said enough is enough and the following morning just offered him a bottle instead of the boob....and he didn't bat an eye. So we were officially done! Every baby and mom are different...but if you have specific questions about weaning please let me know.
Jessica
also wants to know what hair products I use. Okay, so I know every one's hair is different, and that means you may need different products than me. I think Kate from
The Small Things Blog
has some excellent recommendations....also, I use her tutorial found
here
to curl my hair with a curling iron. So, with that said, I really thick, naturally wavy, hair that holds a curl really well. I like to mix up my shampoo and conditioner on a regular basis and don't use anything fancy. My favorites right now are:
Herbal Essences Hydralicious shampoo and conditioner
,
Yes to Carrots conditioner
, and
Suave Professionals keratin infusion conditioner
. My favorite dry shampoo is
Not Your Mother's Clean Freak Refreshing Dry Shampoo
(use it all the time!) and my absolute favorite hairspray is
Big Sexy Hair Spray & Play Volumizing
hair spray. I also only wash my hair every three days, which I think keeps it healthier and makes it easier to style. I totally recommend washing your hair less....it takes a while to get to the point where you can skip shampooing sessions, so try gradually over the course of two weeks skipping a shampoo here and there. I also rinse my hair with a apple cider vinegar and water mix usually about once a month.
The Bennetts
asked lots of stuff....first up, where do I see myself in 10 years? Hopefully with one or two more kids, wearing a baseball cap and cheering on Hudson's team. Living the dream, right? She also wants to know my biggest fear. Ever since I became a mom, my fear has been that something bad will happen to Hudson. Or that he will get really sick. Or that someone will hurt him. It's SO hard to not let your mind run wild with horrible things that could happen. I can't even think about it. I'm also terrified of spiders and rodents....yuck. Anyway, moving on, she asked how I stay so fit. Which, ha. First, thank you....you totally made my day. Second, I'm no skinny minnie, but have managed to feel pretty good in my body, especially lately. The BEST thing I did to get fit and loose baby weight was breastfeed. It totally helped me shed those pregnancy pounds plus a few extra! I miss those extra calories now that Hudson is weaned. I also burn a lot of calories chasing after a busy boy, I go on lots of walks with our dog Wrigley (well, I used to, back when it wasn't 10 degrees outside!), eat sensibly, and I also do
The Workout Mama's bootcamp
, which I highly recommend!
Whew.....we still have more questions to go....stay tuned next week!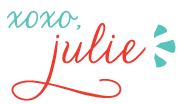 16 Comments »