One of few the perks of living in Michigan is having a snow day! We are on snow day number two around here and I couldn't be happier! But....it's crazy cold outside (-6 this morning!) and the roads are crazy scary....so staying inside is a must!
To properly enjoy your snow day you need a
cute mug
full of hot chocolate and LOTS of marshmallows.
Second, you need a good movie to watch.
And finally, you need the world's coziest
blanket
to hide under all day.
If you need me, you know where I'll be!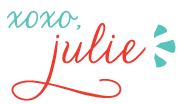 23 Comments »