Happy New Year's Eve! A while back ago I did a "
ask me anything
" post...and then never answered. In my defense, Thanksgiving was right around the corner, and then I got the stomach flu, and then it was Christmas and yadda yadda yadda here we are, the last day of December and I'm FINALLY going to answer....so let's do this!
Melinda
asked: "what are your favorite books to read?" Which, is an excellent question...and I am ashamed to answer it. Because I LOVE to read. Before I got pregnant I read all the time...on my lunch break at work, before bed, on the weekends....but lately (as in, the last two years) I haven't had a spare moment to read. Shameful. But, I did love the Hunger Games series, as well as the Divergent series. And The Help is one of my absolute favorites. If you are looking for a good book recommendation my real life bff
Erin
has never lead me astray. She has great taste in books and always has the best recommendations....so, Erin, please list some of your current favs in the comment section!
Kristin
wants to know my favorite part of being a mama AND my weirdest habit. Oh geeze....I love everything about being a mama. Probably the best is when I'm watching Hudson play with his toys and he suddenly looks up at me, gives me the biggest smile, and then runs as fast as he can to give me a huge hug....and then he goes back to playing. It is absolutely the best feeling in the world. And also having him fall asleep on my shoulder. I cherish those little moments. And now for my weirdest habit....hmmmm.....I'm addicted to teenage drama shows (Pretty Little Liars anyone? High School Musical?), I also always have to cross my pointer finger and middle finger on my right hand whenever I clap, and have this weird thing about always picking at my husband. I'm like a mama monkey, constantly picking at something on him. It's weird.
Sarah
wants to know all about me and my husband....how we met and how he proposed. I could do an entire blog post on this, but I'll keep it short and sweet. I had recently moved to Michigan (from California) for graduate school and met my husband at a halloween party. Well, we call it a halloween party, but it was totally a bar....but it
was
halloween. I was dressed up as a cowgirl and he was a hockey player. I thought he was cute and LOVED that he was so tall. Anyway, we danced all night and when it was time to leave I gave him my number and didn't really think twice about it, but he called me the next day. And I'm ashamed to admit, I ignored his calls for a week or so. I wish I could go back in time and slap my stupid self. I finally got my senses back a month later and texted him to meet me and some friends for dinner...and he did. And the rest is history. We were engaged almost two years later....he proposed with a scrapbook he made of pictures of the two of us....and the ring on the last page. After I said yes, and cried, we headed back to my apartment to call our families. In the car I called my mom but she didn't answer....because she (along with my husband's family) was waiting back at my apartment to surprise me. It was the best day ever.
A bunch of you (
Colleen
,
Katie,
Tracy
,
Whitney
,
Whitney
and
Liz
) want to know my daily schedule....I promise you I will do an entire schedule post in January....I'm always curious to read about other mom's schedules too....but it's long! So stay tuned.
Colleen
also wants to know my favorite book.....I'm trying to think of books that I was sad when the were over: To Kill a Mocking bird, The Girl with the Dragon Tattoo series, The Da Vinci Code, The Help, and The Harry Potter series.
Erin
wants to know when I'm moving back to California......uggg....probably never. It may seem crazy, but we sort of like it in Michigan. Except in January and February. Those months I will happily move to California. Perhaps we need to summer in Michigan and winter in California? My mom still owns her house in CA so it's a possibility.....
"
B
" wants to know a lot of things....first, how many kids do we want and how far apart. Well, hmmm, I'm not sure. My husband always has said we either have 0 kids or 5. And then we had Hudson and he quickly changed his tune and started talking about how great it is to just have one child. Ha. But I was an only child and didn't really enjoy it, so I want to have a big family. Plus I LOVE being a mom and want to do it again! Those first few weeks with Hudson I would sometimes cry about how fast it was going....and often the only thing that would get me through those nights was telling myself I can do it again. I can have a newborn again. Crazy hormones, right? Anyway, we haven't decided on an exact number, but for sure one more....possibly two. Once we have baby #2 I think we'll know if our family feels complete or not. If it doesn't, than hello baby #3! And I think spaced 2-3 years apart is best for our family.
"B" also wants to know the hardest part about being a working mom. I have no perfect answer for this. It's all hard. I feel guilty for leaving my child four days a week (I work from home one day a week). When Hudson was really little it was so much harder to leave my baby with someone else, but now that he is older he gets excited to play with his friends. I watch him on the video camera (total lifesaver!) and he is always having fun. A few times I've picked him up and he hasn't wanted to leave....which made me feel good, in a weird way! Another thing that's hard about being a working mom is that there just never is enough time in the day to get everything done. By the time I get home from work, make dinner, eat dinner, clean up, and get Hudson to bed I am exhausted. But I think that can be said about stay at home moms too. And just to be honest, I'm a little jealous of my stay at home mom friends. I think it's super hard to be a stay at home mom....just like it's super hard to be a working mom. The grass is always greener on the other side, right? But I can't help but feel jealous. I want to spend every day with my son. I want to bake cookies with him and take him to music class. I want to be in a play group and go on trips to the zoo and the park. I want to be there for everything. So yeah, it's hard.
Okay, so I wrote a novel. I hope maybe you all got to know me a little better! I'll be back soon with part 2!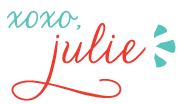 17 Comments »