It's the most wonderful time of the year! It's time to pick out a Christmas card! I LOVE Christmas cards so much. I love seeing everyone's growing and changing families year to year. And Hudson LOVES playing with the cards we receive. We kept the cards from last year and he plays with them just about every day! So, if you are on the lookout for a classic Christmas card design, invitation, or announcement you are in luck! Today, I want to introduce you to the super sweet and amazing Jillian from
Bella Carta Boutique
. Jillian is one of my sponsors and designed this beautiful card for us! I love it! Take it away Jillian.....
What began as a favor for my closest friends quickly blossomed into something much bigger. I found that I loved working with new clients and turning their visions into reality. I loved creating invitations that a bride and groom would cherish forever, and baby announcements that would someday grace the pages of a scrapbook.
Bella Carta Boutique was born from a love of design, and the joy that comes with creating something unique and memorable. We believe in timeless, classic designs, that are uniquely 'you'. From holiday cards to babies - and everything in between - let us help you create something beautiful!
Jillian is generously offering The Girl in the Red Shoes readers $5 off any digital file! Use code
REDSHOES5
(valid through
November 30, 2013
)
For 10% off any print order, use code
REDSHOES10
(all print orders are custom requests, please message Jillian for pricing and availability; valid through
November 30, 2013
)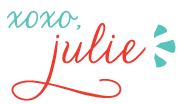 5 Comments »