1. Be careful when you spray. Hairspray that is. On Saturday morning I took a direct shot of hairspray to the eye. And oh my word, it hurt so bad. Like I screamed. And flushed my eye out for 5 minutes. And spent the next 4 hours wondering if I should go to urgent care. And then wondered how much they would laugh at me if I did go to urgent care. I mean, who sprays hairspray directly in to their eye???? It felt like acid was sprayed in to my eye and then it was scratched and it hurt every time I blinked. Which was a lot. Thankfully eye drops helped and by 3:00 I was better. Stupid hairspray.


2. Birthday getaways are the best. As a surprise for my husband's birthday, I kidnapped him after dinner and took him to one of the fanciest hotels in town. And we didn't come back until the next day. It was glorious. Hudson did great with grandma and mommy and daddy got to sleep in. Best idea ever.
3. John Deere hats aren't just for farmers. Just sayin'.
4. When you leave your kid for the night he misses you. And it's just about the cutest thing ever.
5. These are little bits of heaven on a stick. And were totally consumed this weekend.
I hope your weekend was as fabulous as mine!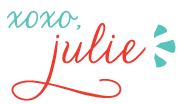 16 Comments »