"...upon walking into the building, I'm informed that it's picture day and, of course, I've forgotten all about it. Why do one-year-olds need a picture day anyway? My son is wearing a too large baseball t-shirt with remnants of his breakfast smeared all across the neckline and down the left sleeve. Somehow he managed to kick off one of his shoes in the car and I can't for the life of me find it."
"...the two ladies in charge of taking the photos just stare at me. They give me a look that's half pity and half understanding with a little bit of judgment thrown in for good measure. I plop my son down in front of their camera and tell them it better be a picture to remember. I can't wait to see it! It might even make our Christmas card....."
To read the rest of this post head on over to What to Expect While You're Expecting where I'm the Word of Mom guest blogger! Click
HERE
to read the post...and I would love for you to leave a comment if you can....right now I'm looking at a big fat 0 comments and it's kind of sad.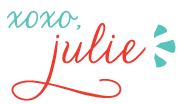 10 Comments »