Welcome to week two of Kid Tested, Mom Approved! Today the lovely Colleen from
Meet the Sullivans
is our host and we are talking about family friendly food. I'm so excited for today because I am always on the hunt for simple, easy to make meals that kids love.
Grab the code above, put it in your post, and link it up below!
high chair
/ bib made by my mom
Hudson just started eating real food, so we are always experimenting in our house. My criteria for meals is: yummy taste, healthy ingredients, and easy to make. Today I'm sharing my Chicken, Quinoa, and Black Bean Bowls. I made up this recipe based on things that Hudson loves to eat....and it turns out my husband and I love it too!
Here's what you'll need:
1 14.5oz can diced tomatoes
1 15oz can black beans
1 1/2 cups cooked quinoa
shredded cheese
shredded cooked chicken
1 zucchini
salt and pepper to taste
Good thing Wrigley is always close by for clean-up duty.
Link up your post below! And be sure to come back on Thursday to share your "making memories" ideas: Time with our little ones goes by so quickly! How do you make it memorable? How do you capture those memories? Share with us your best ideas for making and preserving memories with your kids.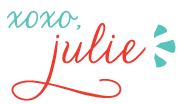 14 Comments »