We had a fantastic 4th of July weekend. There is something about having a super long weekend that just makes everything more fun and more relaxing!
We spent most of the weekend up at my mom's lake cottage and had a blast. Hudson got in the spirit of the holiday by waiving his mini flag. He flat out refused to wear his flag sunglasses for more than 2 seconds. I guess they were more fun to waive around and chew on than wear. We'll have to work on that one.
Our 4th was made more fun by patriotic drinks courtesy of my cute sister-in-law...and pinterest.
They were cranberry juice, followed by lots of ice, then blue gatorade, and then 7up. Super yummy and super festive!
Oh the food! It was awesome. Can we go back and eat it again?
My mom made these little bits of chocolate and toffee goodness and we seriously could not stop eating them. We totally ate the entire pan. Recipe coming soon.
Other than eating, we spent most of the weekend going for long walks, enjoying the sunshine, swimming (Wrigley), and chasing after Hudson.
Hudson slept like a champ through the fireworks but refused to nap the next day. Figures. My mom may or may not have asked Hudson if he was on drugs. That boy gets a little crazy when he doesn't nap!
See what I mean?
How was your 4th of July???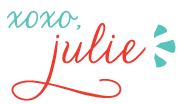 20 Comments »