I'm linking up today with
A Blonde Ambition
to share my big baby purchase must-have list! I know I loved reading recommendations from moms when I was pregnant, so I hope this helps somebody! My husband and I tried to keep our baby purchases to a minimal because I didn't want to have big stuff taking up space in our house unless we really needed it....I'm not so sure the same thing can be said about baby toys, however.
1.
Baby Jogger City Select Stroller
. We love this stroller. I "test drove" several in the store and this was the clear winner for us. We walk A LOT and needed something that would hold up and be comfortable for Hudson. Haven't regretted this choice one second!
2.
Medela Pump in Style Breast Pump
. Although lately I'm ready to beat it with a bat and toss it out the window, this pump really is a must-have if you plan to give your baby breast milk.You can find my other breastfeeding supplies list
here
.
3. A cute but functional diaper bag is totally a must have. I love the diaper bags that look like a purse but I didn't find them to be super useful. They are usually heavy, lack storage space, and there is no way you could catch my husband holding one. I'm on my third diaper bag and finally found one I like! I have the
Skip Hop's Duo Deluxe
diaper bag in Chevron and it perfect for us. Plus it's cute!
4. Video baby monitor. We have
this one
by Motorola. It works great and I love being able to "spy" on Hudson. It really helped when we transitioned him to sleeping in his crib that I could see him whenever I wanted. We use this a lot now to determine if Hudson is crying because he's awake or just fussing in his sleep.
5.
Chicco Keyfit 30 car seat
. We loved this seat when Hudson was little (he's now in a
Britax Marathon
seat that we love too). The Keyfit was super easy to use, safe, and easy to clean. Make sure you get a second base so that you can put it in two cars.
6. A good sound machine is a must for good infant sleep! We have the
Conair Sound Therapy Clock Radio
and it has worked well for us. I like this one because it has a clock built in which is super helpful for those late night feedings when you are disoriented. Skip the waterfall sounds and go straight to the white noise button. And make sure it's loud!
7. A Portable high chair. We use
this high chair by Inglesina
all the time on our kitchen island. We trade off between our regular high chair (vintage) and this one. I love that this one can travel with us if needed!
8.
The Fisher-Price Snugabunny Swing
is the go-to baby swing for so many moms...and for a good reason! It's great. It's quiet, cute, and Hudson LOVED it. It's a life saver for those late and fussy nights. What I love about this swing is that it has an electrical plug....it saved us from having to buy a ton of batteries. When Hudson was really tiny I thought the lowest swing level was too fast for his little body so here's a tip for any new mom: drape a light swaddle blanket over your baby so that just the tips of each end drag on the ground. It will slow the swing a little bit without causing damage.
If you have any baby gear questions, please let me know!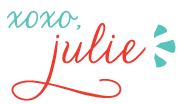 17 Comments »