This week I combined two of my favorite things and it turned out perfect. Chalkboard paint + mason jars = LOVE.
File this under super cute project that's also pretty easy.
First, pick up some wide mouth mason jars. I've seen these at Target and Walmart.
Tape off any areas you want kept clear and paint with chalkboard paint. I wasn't sure what look I would like best so I started off with one entire jar painted in chalkboard paint and one jar with just the bottom painted. I ended up liking the half-painted one the best!
Make sure you use painters tape so that you get a nice clean line. I used 3 coats of paint on each jar.
This chalkboard paint is the best! I've been using it for over a year and there is still a ton left. This project probably would have been easier with spray chalkboard paint, but this is what I had on hand. I've found that the coverage of the real chalkboard paint is better than the spray paint version.
After your third coat carefully peel off the tape and let it dry for a few hours.
The decorate as you please! We planted some herbs in each jar for my sister-in-law and I used chalk to label the jars. A word of warning: it's really hard to write on these jars with chalk. I did the "flowers" mason jar at the top of this post with a sliver sharpie and it was SO much easier. But I like that with the chalk you can change them up whenever you like!
And that's it! I can't wait to see them when they start to grow!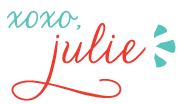 22 Comments »