In case anyone was wondering.....
1.
Michael Kors Tote
. You can't go wrong with MK. And I need a new go-to black purse.
2.
Custom Recipe by articipe
. This is a fantastic gift idea for anyone! I would love one made with my mom's chocolate chip cookie recipe.
3.
Kendra Scott Earrings
. I've been crushing on these earrings for at least a year now. They are beautiful...and green is my favorite color!
6.
New Canon DSLR
. My Nikon has served me well, but it's time to move on to bigger and better things. I have a feeling I'll be seeing this guy soon....
7. Target gift card. Needs no explanation. It is by far my favorite place to shop.
9.
Ikea Shoe Cabinet
. No birthday is complete without an Ikea shopping trip! Check me out (super pregnant) last year
here
.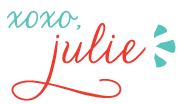 18 Comments »