Decorating our Christmas tree each year is one of my favorite traditions. I just love walking in to our house and smelling our wonderful fresh tree. I'll miss it when we have to take it down!
Still no presents under our tree. Mama/Santa needs to start wrapping!
We have some new favorite ornaments this year. I love this mercury glass "H" I picked up for Hudson at Kohls.
A dear friend of mine made this ornament out of the invitation to my baby shower. So cute!
Of course we have a little red shoe!
And I am just in love with this ornament I had made at Shutterfly using our
newborn photos
for Hudson's first Christmas. It is my absolute favorite!
We also have two mini trees in our family room! I go for more of a rustic theme in that room and it always turns out so cute.
Another Hudson ornament. I couldn't help myself! He is going to have a ton of ornaments when he grows up!
My cute boy decked out in his Christmas gear.
And of course Wrigley "helping" me decorate!
Make sure you join the link party and show off your Christmas tree over at
Honey We're Home
!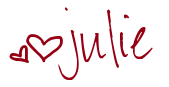 23 Comments »