Happy Monday! Please tell me I'm not the only one who has to work today???? My husband has the week off.....SO not fair! I was pretty jealous of him when I left for work this morning.
We had a great weekend....it started off with me getting my hair cut. I always have a good day when my hair is styled for me...why can't this happen every day?
And yes...it takes two people to dry my hair!
And the print I ordered from Etsy arrived! I can't decide if it's going in the nursery or in our bedroom. But I love it!
And what weekend isn't complete without homemade chocolate chip cookies? The husband sure was happy....and so was I!
To counteract all the cookies I made green monster smoothies. Just blend frozen strawberries, a banana, some milk, and some fresh spinach. I also added a little mango to this one. Yum!
How was your weekend?
Thank you to everyone who entered my giveaway last week!!!
And the winner is....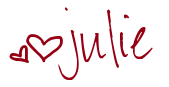 17 Comments »