Welcome to Pinteresting Wednesday! I love showing off my favorite Pinterest finds of the week, don't you?
This is such a cute idea! Mod podge a copy of your marriage license on to a wooden letter. How adorable is that? It would make a great anniversary gift.
DIY farm table. I wish we were more handy....I can't get enough of these.
Our home seems to have endless laundry (and love too!) lately. If I get just a few days behind it's like World War III in our laundry room.
How cute are these heart cuff bracelets? I want! I can't decide between the black and white one and the turquoise and red one. Love.
Make your own chocolate gelato. Are you kidding me???? Please, husband, if you are reading this your baby told me he could totally use some of this asap. Pretty please?
Yum. Cinnamon chips and fruit salsa? You can make this one for me too honey.
What are you favorite pins this week?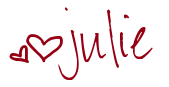 18 Comments »