Let's move on to some pins, shall we?
Such a simple idea for a side table....old barrel turned upside down.
I love this tutorial for tissue flowers for gift bags! I love giving and receiving beautiful packages...don't you?
Tear. I don't think I'll be able to read this book....so sweet and so true.
I love this for above a sink....especially in a kids bathroom!
DIY simple clothes pins.....why didn't I think of that?
Oh my word. I couldn't resist posting this baby boy. It makes my eyes tear up just thinking about the cuteness! I hope our baby has hair so that I can give him a mohawk!
Yum. Grilled mozarella and tomato sandwich! I'm totally making these this week!
Strawberry shortcake bars sound SO good right now!
What are your favorite pins this week?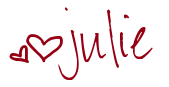 15 Comments »