Happy Wednesday everyone! This week it seemed like there were a TON of cute things on Pinterest. I have the itch to decorate and organize my entire house...and Pinterest is just making it worse!
I love love love this idea of using small frames withing a large frame to fill a space on a large wall. I need to find somewhere to do this in my house.
Mason jar planter box! Duh, why didn't I think of that?
Tutorial on how to print on freezer paper, then iron it directly on to your fabric. MUST try this asap! Has anyone done this?
The perfect shade of red for our front door....I need to make this happen this spring. I'm tired of the current rust color.
I love this little nook! So cute and functional.
If I wasn't rocking a baby bump I would totally need a pair of mint green skinnies. How cute is this girl?
I tried to find something sweet that looked good to pin this week....but I came up with this salad instead....it looks incredible!
What are your favorite pins this week?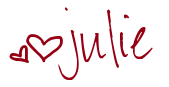 23 Comments »