Did you watch the Oscars last night? I made it to Best Supporting Actor and then went to bed. As usual, my favorite part was the fashion. Who were your favorites?
I thought Michelle Williams look beautiful.
Octavia Spencer looked amazing in this dress. I'm so glad she won for The Help!
Jessica Chastain also looked gorgeous in this gown.
Gwyneth Paltrow always seems to get it right. I loved this dress with and without the cape!
And of course Emma Stone looked so pretty in red! Love her.
Who did you love?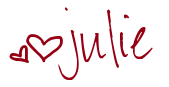 17 Comments »