Happy Wednesday everyone! Thanks to Pinterest I'm excited for Valentine's day! Now if only I had time to make some of these adorable crafts....a girl can dream, right?
This one looks easy and adorable. Such a cute way to spice up your mason jars!
If I still passed out valentines I would totally do this. It's just too cute for words!
Love love love this heart wreath.
So cute and so true. I like the heart garland to.
Easy bookmarks made out of the paint sample cards....a cheap and easy gift!
Oreo pops.....I might have to whip up a batch of these for my husband this year.
Love this little Valentine's day love chain.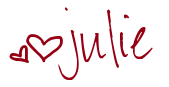 31 Comments »