Happy Wednesday! Did you manage to waste any time this week on Pinterest? I sure did!
I am in love with this DIY farm table! What a beautiful statement piece!
LOVE this idea for wine glass storage.
Easy DIY burlap utensil holder.....this would be so cute for a bridal shower.
I love this pin! It says "if it isn't moving, monogram it!" So so true.....
I LOVE this chevron rug. I am determined to find a spot for it in my house. And it's super affordable.
Can it be Spring yet? I want to wear an outfit like this so badly! When is it okay to wear white pants???? After Easter? I can't remember.
Peanut butter balls. Need these now!
If you've been reading this blog for a while you know I'm obsessed with peeps. I love this peep fondue! Such a cute idea.
What are your favorite pins this week?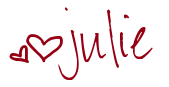 26 Comments »