Oops...I meant to blog yesterday, I swear....totally don't know what happened! And the worst part? I can't remember what I was even going to blog about! So far I guess life in 2012 has been pretty boring. But you know what's not boring, ever? Pinteresting Wednesday of course!
I'm totally lovin' this XO wreath for Valentine's day. Confession: My Christmas wreath is still hanging on our front door. I totally forgot to put it away with all of our other Christmas stuff.
I love this idea of displaying photos. This would be adorable at a baby's first birthday party!
LOVE the bright colors in this photo! This would never go in my house, but still, it's pretty!
Tutorial on how to print directly on burlap with your printer. Please somebody do this and report back!
Another awesome tutorial on covered pendant light shades.
I did this with my scarves over the weekend! It's awesome....except when you tip the hanger and they all fall to one side. That is not so awesome.
I love this green top! Must get one like it asap! After all, green is totally my power color.
Pink lemonade pound cake. Yes please!
What are your favorite pins this week?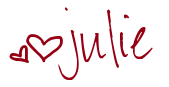 36 Comments »