Happy Pinteresting Wednesday! As much as I love Wednesdays, I just want this week to be over all ready. Anyone else with me? Friday can't come soon enough!
Did you find any cute stuff on Pinterest this week? I sure did!
DIY Stacked Frame tutorial. GET OUT. This is beyond adorable. Must re-create asap!
I love chalkboard paint on an old dresser....this would be really cute in a kids room!
Dear husband: Please build me these shelves. I NEED them in my dining room NOW. Or you could hire someone to build them for you...that would be fine too.
DIY garland tutorials....adorable and easy!
I just love this. I'm sure I'll never make one, but still, I love it.
This necklace is so sweet and simple. I have a similar one with both mine and my husband's initials. I get compliments on it all the time.
And because I must end on something sweet, this caramel apple cake looks amazing!
What are your favorite pins this week?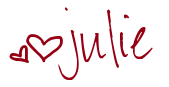 37 Comments »