I'm obsessed with these personalized platters! What a cute engagement or wedding gift! Plus, those are the husband and my initials...double cute!
If you've been reading my blog for awhile now you know I'm in love with all things chevron. And these frames are no exception. I might have to try making one myself!
This is such an adorable idea. Place toys your child used to play with in a jar for display...so cute. I could probably do this now with the husband's old cars....except he might be tempted to play with them.
We are totally doing this (only not all the way up the wall) in the extra bedroom in our house. Goal for 2012...make this happen!
More chevron love...in clutch form.
Totally easy DIY burlap bulletin board. Why didn't I think of that?
I'm lovin' everything about this outfit. Anything I can wear with boots is good in my book.
Can someone please make me this grilled cheese with guacamole sandwich asap? Thanks in advance.
What are your favorite pins this week?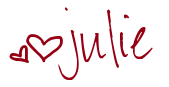 36 Comments »