Good Housekeeping's cardboard template for Rudolph. Get out of town! I SO want to do this!
I love everything about this photo...the burlap stockings and the Holy Night canvas are amazing! Oh but I just noticed the faceless nutcrackers...so maybe I don't love "everything."
Pine cone Christmas trees! Why didn't I think of that?
Dear Santa:
I'll make you these candy cane peppermint patties....
...if you get me this chevron duvet cover. Pretty please? I've been SO good....
...and also these polka dot tights too. Thanks Santa.
What are your favorite pins this week?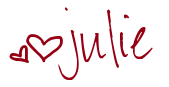 27 Comments »