Is it too early to pin Christmas stuff? I've totally been doing it since August. Also, can I please have this little boy? He has red hair and he's grumpy...he could totally be mine.
Love love love this party set up!
Totally easy DIY and totally doing this.
Double shower curtain...why didn't I think of that? I love this look!
Drooling over this adorable pillow. WANT.
Another simple DIY using painter's tape and, well, paint on a canvas. Easy!
Can I have this amazing outfit? Pretty please?
One can never pin too many s'more recipes. This one looks delicious! I'm totally obsessed with s'mores. They are my new favorite thing.
What are your favorite pins this week?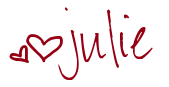 26 Comments »