You can find me on Pinterest here:
I blame Pinterest for my love affair with all things burlap. And easy to make fabric flowers. I'm totally doing this. I promise.
Monogram lamp shade! Get out! This would be so cute in a kid's room!
Add a pearl to your bobby pins for a sophisticated look. Why didn't I think of that?
Such a cute idea....I'll probably never do it...but still cute.
Kitchen love. I'm SO jealous of this person. My ideal kitchen would look like this...but minus the back splash....not a fan.
I'm showing this to Wrigley the next time he decides to take a dog down ninja style at the dog park.
Homemade potato ships with avocado ranch dressing. Seriously? I need this now!
What are your favorite pins this week?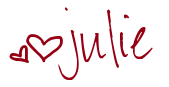 29 Comments »