You can find me on Pinterest here:
I LOVE these house portraits! Too bad the artist is not currently accepting orders thanks to her popularity on Pinterest! I would absolutely love a portrait of my house...I'll have to check her out once her shop opens back up next year.
Obsessing over this heart bracelet by Marc Jacobs. Adding it to my wish list.
Burlap stockings! Yes please!
DIY headband holder...isn't this cute? And made from an oatmeal can!
I love this idea of framing your old house key....totally doing this if we ever move! Also, this would look perfect on a gallery wall.
Sigh. Barn doors for the pantry. So perfect.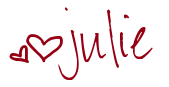 29 Comments »