You better believe I saw Breaking Dawn over the weekend! Did you see it? I loved it....and now I hate having to wait forever for part two. Life is so unfair. I loved Bella's wedding dress and the whole wedding in general...but didn't like how Bella basically looked like she was in pain while walking down the aisle. Come on...couldn't she at least crack a smile? And I was lame and didn't sit through the credits to watch the "extra" scene. Did anyone catch it?
Now for the winner of the Thirty-One Gifts giveaway.....
Congratulations! Thank you to everyone who entered...and if you are new to my blog, welcome!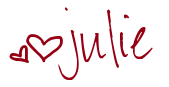 12 Comments »