Happy Monday everyone! Or should I say, Happy Columbus Day? The husband has today off so I took it off too. Only fair, right?
Over the weekend I got to visit my friend Kate and her two adorable little ones. Kate and I went to high school together in California and now we've both ended up out here in Michigan.
Baby Finn. Isn't he just precious? He was so good the entire time just hanging out in his swing.
And big sister Dakota. I made her some headbands and she wanted to wear them all at the same time. She had two on her head and one around her neck....love this little girl!

Want to make an adorable headband? Over the past few weeks I've been making fabric flowers like crazy. They are really easy to make and turn out adorable.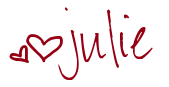 15 Comments »