I love the idea of writing thanks on white pumpkins. There are so many cute things you can do with pumpkins on Pinterest...I think I'm going to have a different type of decorated pumpkin in each room of my house so I can do them all!
My mom and I always talk about using an old ladder in a bathroom. Isn't it gorgeous?
I saw this adorable necklace on a blog yesterday and now I want it so bad! Husband! Buy this for me!
Love this adorable skirt paired with boots. I need to rock this look before it gets too cold to show any skin!
Isn't this pillow adorable? Doesn't Pinterest make you wish you could sew?
I love this crisp and clean navy door. One of my house goals for this year was to paint our front door....totally need to get on that one. Although in true Julie form I am opting to paint our door red!
Yum. This is some kind of ice cream-no-bake dessert. Right up my alley.
Hawaiian Lava Flow! We had these while we were in Maui last year and they were amazing! Although my husband would never admit to liking such a pretty drink, I know he was a fan.
What are your favorite pins this week?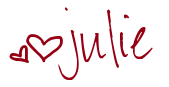 45 Comments »