I love this DIY tutorial for making a silhouette for your dog. I'm so doing this with Wrigley and putting it up on our gallery wall. Isn't it adorable?
This name block set is SO cute...would be such a cute wedding or anniversary gift.
Polka dot clutch? Yes please!
Simple rosette necklace....so easy to make and such a statement piece!
I love these mason jars holding different herbs. Decoration meets function...I love it!
This would be so cute for a party....these wire baskets are pretty easy to find at flea markets...I need to pick one up!
Kendi always looks so cute...I love this fall look!
Carmel stuffed apple cider cookies. Say what? Must make these asap!
What are your favorite pins this week?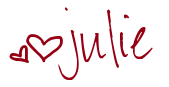 32 Comments »