Pinterest is invite only, so if you would like to join please either e-mail me or leave a comment and include your e-mail address. Want to see what else I've pinned? Click on that pretty red button to find out!
This is on the top of my DIY list. Framed tree bark with your initials....can you say adorable? It would also make a sweet engagement gift!
Big fat orange cat pillow needs no explanation. Love.
Perfect spring wreath! I've had the same wreath on my door for a year now...time to switch it up!
Gahhhh.....personalized anniversary pillow. Why didn't I think of that?
This quote in a baby's room brings tears to my eyes. So sweet.
Hint hint husband! I LOVE this ring!
I'm planning on doing something similar with my mom's old shutters. Love love love.
Did you know it's National S'mores Day? Might need to whip up a batch of these bad boys tonight to celebrate! I think I ask the husband at least three times a week to make me a s'more. I might be obsessed.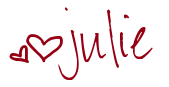 32 Comments »