Such a great idea: hand write the lyrics to your first dance song on a photo mat with your wedding picture. If I didn't already have a zillion wedding pictures up all over my house I would totally do this. Maybe I'll have to do it with a different photo.....
I'm obsessed with burlap. And now I'm adding this pillow to my DIY list.
Why didn't I think of this? Use chicken wire and a pretty frame for a quick and easy photo display. This would be so cute in a kitchen.
Love everything about this: the banner, the pillows, and the pallet head board.
Can I please have this striped jacket? And the boots? Thank you.
Such a cute idea for dog food storage....although I'm afraid my cat Henry might scratch at it until it opens!
Why am I the only person on the planet who hasn't seen The Help yet? I LOVED the book and Aibileen was my favorite.
Pumpkin gingerbread trifle. Oh. My. Word. I'm the queen of trifles.... definitely will be making this!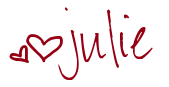 30 Comments »