Y'all. My obsession with
Pinterest
continues. Surprised? I think we need to have a Pinterest party.....and actually make all of these beautiful things we find! Anyone interested? We could make it all official and link up. Maybe that will give me motivation to make some of this stuff. What do you think?
I have a major crush on this pillow. It's $30. Should I make it or buy it? Keep in mind I can't sew!
I LOVE this subway art. You could use important dates, locations, your names....anything!
A cute tutorial for making fun frames for cheap.
Ohhh I could totally make this! Perfect solution for old empty frames too.
I am obsessed with this photo! Such an amazing idea for a baby gender reveal! If only we had a baby to reveal! (and could be patient enough to wait for the perfect reveal photo op).
LOVE these pendant lights above the island. In fact, I love this entire kitchen.
Leg warmers with boots. Genius.
This quote brought tears to my eyes. So sweet and so precious.
What are your favorite pins this week?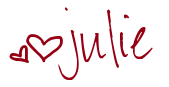 30 Comments »