Happy Wednesday! Today I'm linking up with Michelle at The Vintage Apple for Oh How Pinteresting Wednesday. You should too! Haven't joined Pinterest yet? Send me an e-mail and I'll invite you!
Here are a few of my favorite pins this week.





I NEED these lights, don't you think? I'm kind of obsessed with them. Someone make them for me? I'll love you forever, I promise.



This is the kitchen from the movie Something's Gotta Give. I'll admit to watching this movie over and over just so I can drool over the beautiful house.



Totally need this for my iphone! The one that says "my pick" is my fav.



All you need is love...and this frame of course! Looks like a good DIY.






Here's another project I want to do. A pallet transformed into a photo area...love! Now, where can I find a pallet?


Cookie dough and cupcakes? Sign me up!


I think I need to do this to my Ikea curtains. Or maybe just talk my mom into doing it for me.





Totally saying this to my husband from now on. Finally putting my big but to good use.



Galvanized pots with numbers....what's not to love?
What are your favorite pins this week?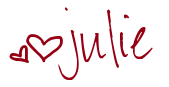 26 Comments »