Let's get started!
Lately I've been obsessed with old library card catalogs. Hopefully I will be able to find one on craigslist soon!
Versions of these shelves are floating around all over......must learn to make them!
Oh these boots. I'm speechless. Bring on the fall.
Love the look of this beat-up sign. I'm adding this to my DIY project list...that thanks to Pinterest is at least a mile long.
A bow on a pillow! Adorable! Please someone teach me to sew.
This melts my heart. My husband is a huge baseball fan....we have to do this when we have a little boy some day.
Call me crazy but I LOVE the rain! The only thing I don't like about it is figuring out a way to get Wrigley exercise without getting soaked. After this crazy hot summer I could use a little rain.
Oh my word. Pinterest is responsible for the 5 pounds I'm sure to gain. Yum.
What are your favorite finds this week?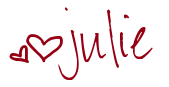 21 Comments »