When I was in college every one's favorite cafeteria meal was always breakfast for dinner.....aka AM in the PM. We would always get so excited for this dinner....and that is probably why we all gained 10 pounds in college. Oops! But man, the cafeteria sure knew how to put on a good breakfast. It was worth it.
Yesterday I got a craving for a little AM in the PM and knew I had to make it for dinner. Luckily the husband doesn't mind my crazy ways!
I made scrambled eggs and fresh strawberry pancakes. And I may have thrown a few chocolate chips in there for good measure. So delicious.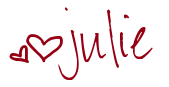 18 Comments »